Ceci est une ancienne révision du document !
---
English version: EN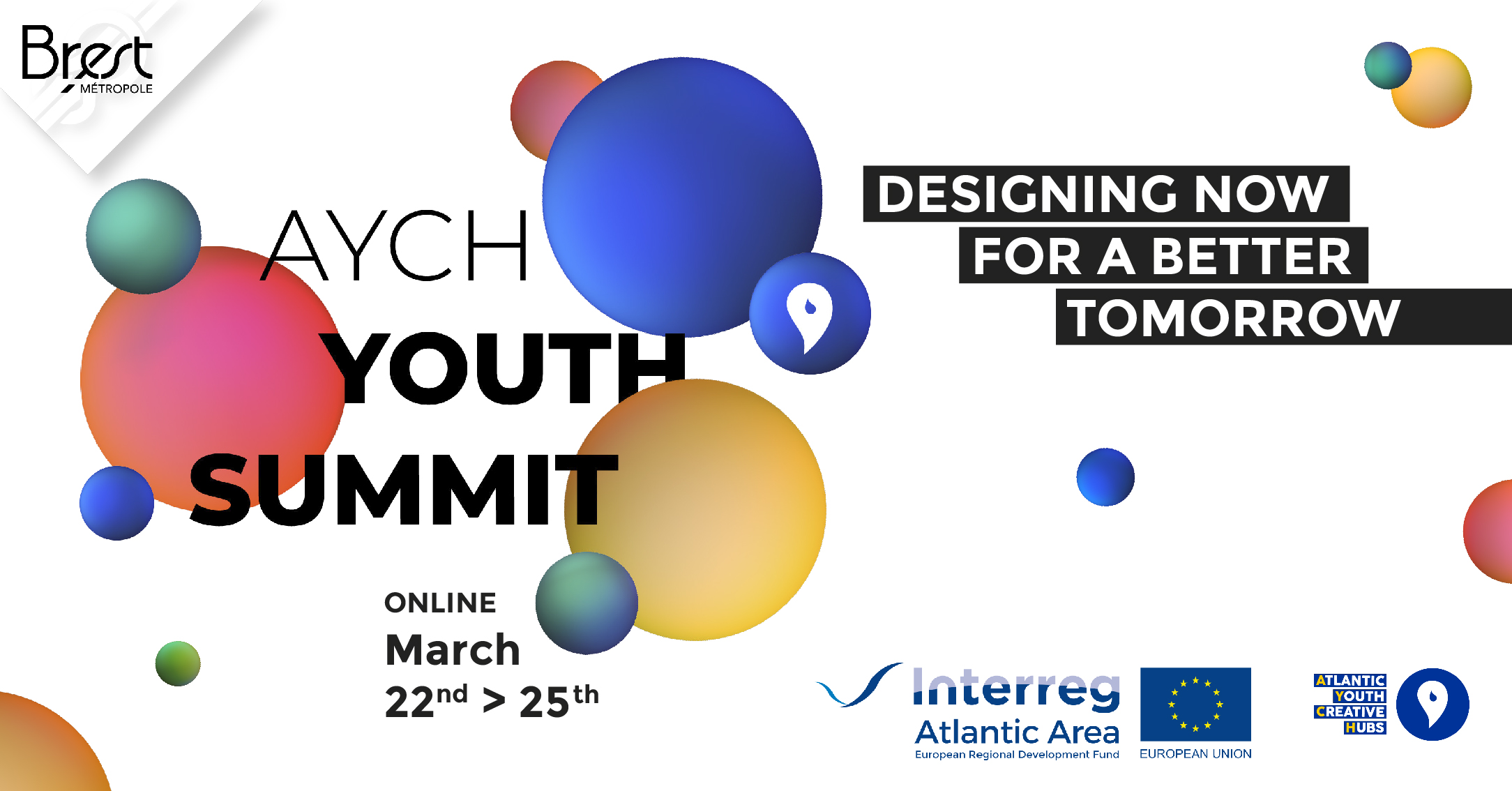 Brest Métropole a été choisie pour organiser le AYCH Youth Summit afin de clôturer plus de 3 ans de collaboration européenne autour de la créativité et de l'entrepreneuriat. Cet événement doit réunir des jeunes, des décideurs, des éducateurs et des partenaires autour d'un thème majeur. Au vue de la situation sanitaire en 2020, nous nous sommes alors posé de nombreuses questions pour repenser le format de l'événement, initialement prévu en présentiel.
Quel cadre donner aux jeunes Européens pour qu'ils puissent exprimer leur vision d'une Europe créative pour 2030 ? Comment réinventer la dynamique d'un événement physique dans une version en ligne sans impacter la portée de l'échange ? Comment engager les jeunes Européens autour de thèmes qui apportent des réponses aux grands enjeux de demain ?
Notre positionnement
Nous avons décidé d'organiser un événement d'une semaine abordant 3 thèmes autour des expertises locales des partenaires et donnant l'opportunité aux jeunes professionnels d'exprimer leur vision du monde en tant qu'experts.
Il s'agit d'un événement en direct pour co-créer une vision commune avec les intervenants et le public pendant 4 jours. Les partenaires établissent le cadre d'une co-conception en temps réel.

3 tables rondes thématiques et une table ronde pour formaliser l'Agenda 2030, un document de vision résumant les 30 recommandations.

Garder les participants concentrés : tables rondes courtes d'une heure et demie.

format de discussion : animé par un présentateur dynamique et engageant, ponctué par des interactions avec le public : sessions de sondage, session de post-it contributif… afin que chacun puisse contribuer à la discussion

traduction en direct pour inclure le maximum d'audience en français, espagnol, anglais et portugais (réalisée par une équipe de traducteurs professionnels)

animation graphique des éléments clés de chaque table ronde car nous sommes convaincus du pouvoir de la représentation visuelle (nous avons travaillé avec un illustrateur)

nous avons travaillé sur une campagne de communication et une nouvelle identité visuelle pour l'événement avec un graphiste

l'événement est soutenu par un site web pour héberger les ressources et les enregistrements édités (nous avons travaillé avec des web-designers). Nous disposons d'une plateforme pour continuer à diffuser les connaissances recueillies lors de cet événement.

aych-2030.com

Les partenaires de l'AYCH se sont engagés à porter la Déclaration de Brest - Agenda 2030 au niveau européen.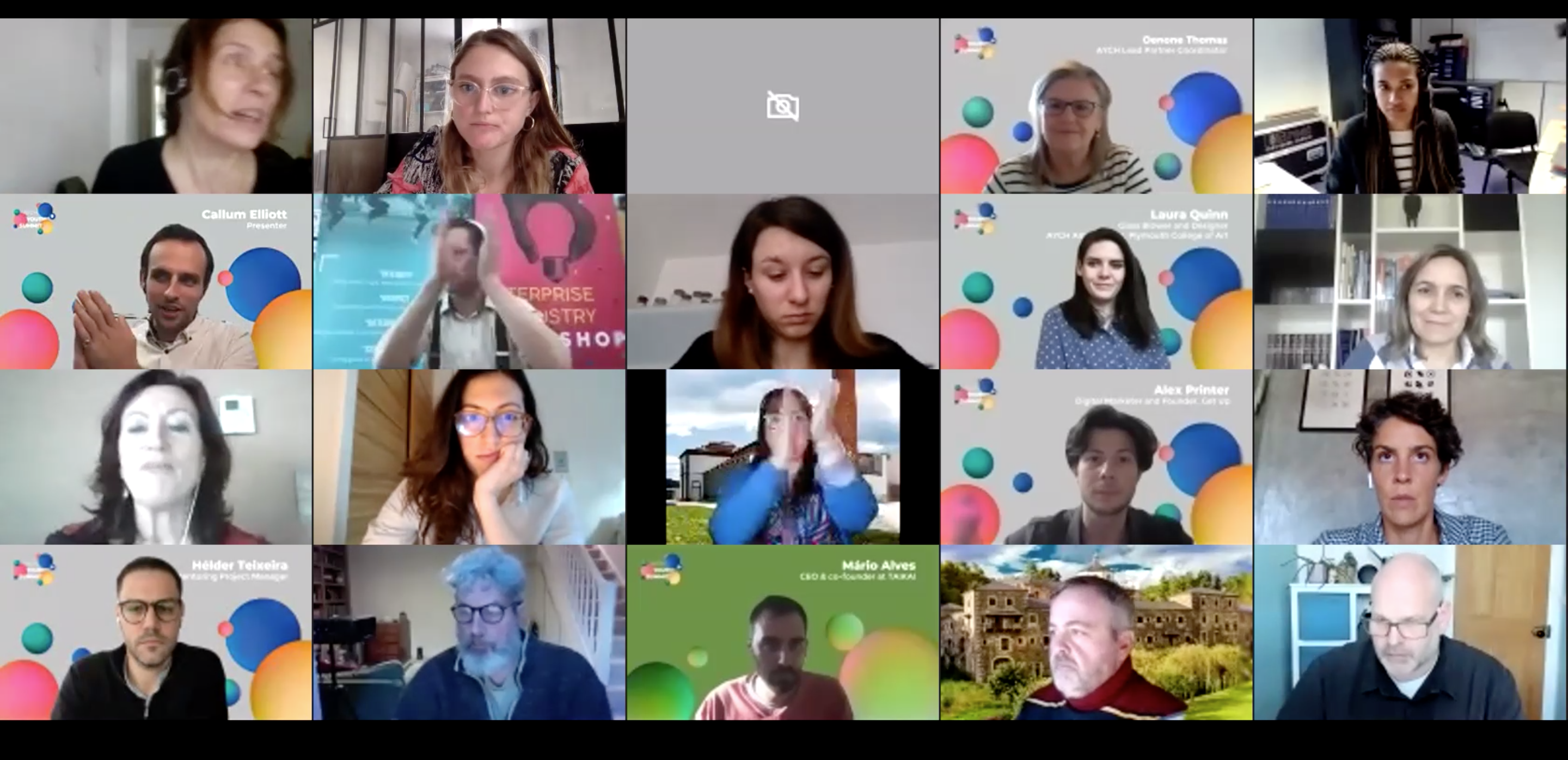 Jeunes européens, intervenants, partenaires & experts autour de la table.
CHALLENGE #1 - Social Entrepreneurship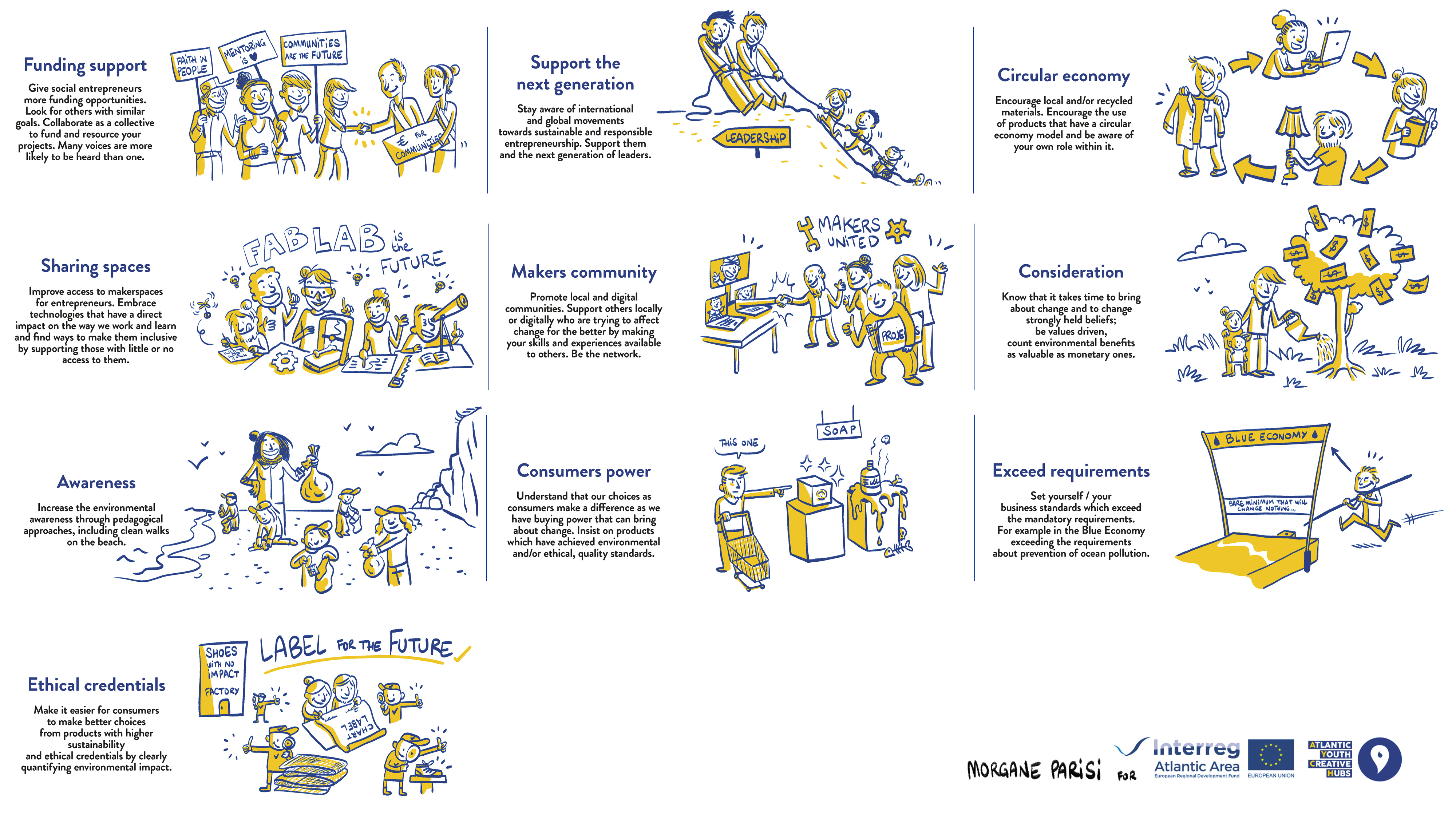 CHALLENGE #2 - From Creative Education to Impactful Careers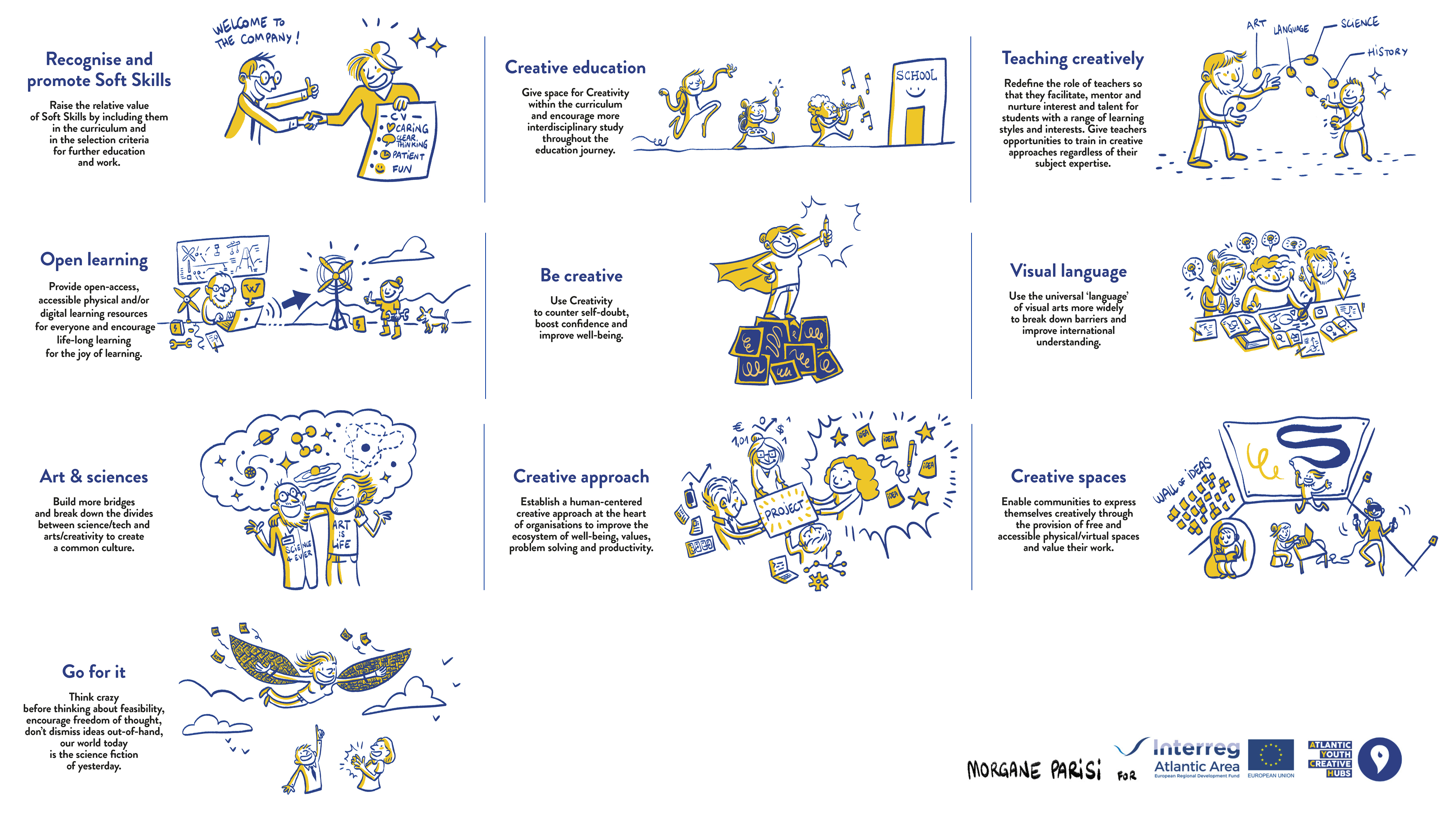 CHALLENGE #3 - Workforce of Tomorrow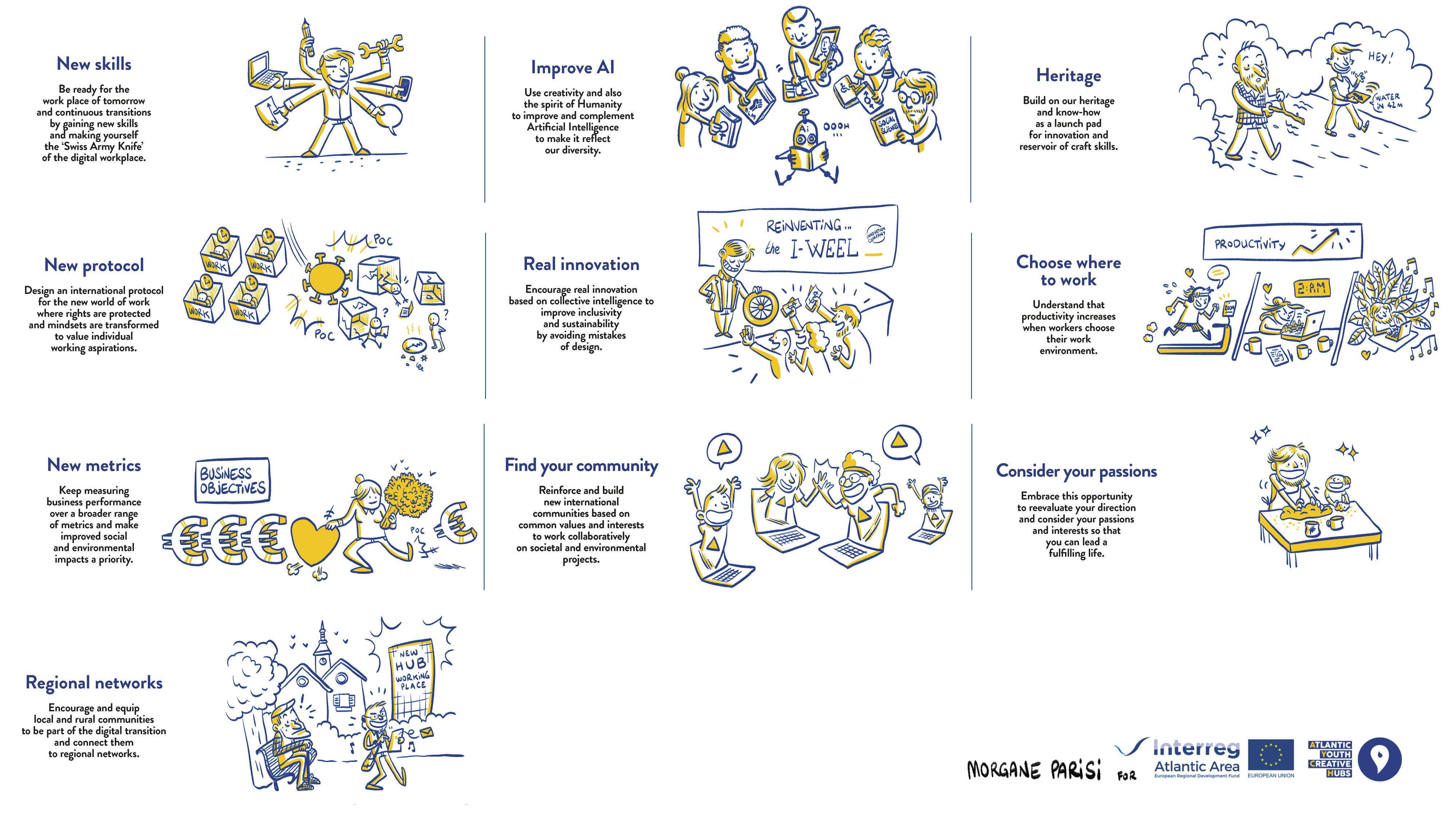 → Thanks to this event, we succeeded in gathering more than 250 people over 4 days, collectively producing a forward-looking document and showing that young Europeans are already building the future of Europe.
---
AYCH Legacy
by Florent Orsoni, Chair of Consolidation of the Atlantic Youth Creative Hubs model
AYCH Legacy isn't only a « what works story ». With an internet hub you will have access to different channels. You can access to the book, which relates and links the AYCH cornerstones and the story, the Wiki which delivers the tool box in an open source version and detailed framework, and a progression support desk, which connects people, experiences, to make your own path with AYCH.
AYCH Legacy delivers an experience, a way. But there is something beyond AYCH.
First of all, AYCH Legacy has a message in education. At L'Ecole de design Nantes Atlantique, we decided to include this process as part of the curriculum. We not only worked with students, but as a professional team. We gave them confidence and self-awareness. They produced tools for facilitation, discovered MIRO which is the core tool of our workshops. We changed the mindset : when I saw « poor quality » prototypes (first impression) in Vida Lactea or Space, Richard or Xose told me : this is the first time they have produced something by hand, this is the first time an International expert has said : it's worth, go on. AYCH makes me understand that education is more an experience than a programme.
AYCH Legacy also has a message on the value of design. We had to redesign AYCH to succeed, to adapt ourselves, to vision and vocabulary. AYCH Legacy celebrates this approach that encourages dialogue, diversity, flexibility… Design thinking has been the way to transform AYCH into an education path with meaningful experience, that builds self-confidence, trust, and openness.
Most of all, Aych legacy is anchored, nourished by European values : a way to collaborate, to build something resilient trough the crises (Brexit, COVID). We were resilient, because we were mainly driven by values, utopia. Indeed, and we accelerated our process during the crises.
We are in the darkest times of human history. I have no doubt that this crisis drives us towards a new world. Aych leaves with a method, an approach, a way to bring new ideas into life. And we have this urgent challenge to design this « new world ». « When it's dark enough, you can see stars »… I hope Aych could be one of these stars that guides you through an unknown path of cooperation, knowledge sharing, ideas spreading, something youth oriented where everything is possible… With AYCH, we embodied the vision that gave birth to another utopia, Europe, that turns such dreams into reality.